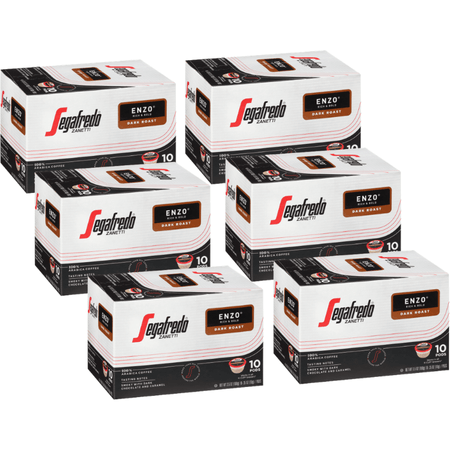 RICH, BOLD, AND COMPLEX
Our bold craft blend of Colombian and Brazilian Arabicas is dark roasted to unveil a complex and fearless full body. Its flavor includes notes of nutty, smoky dark chocolates and caramel with a smooth bold finish.
If bold flavor is your thing, consider our Extra Strong Espresso blend.
PROFILE
Name: Enzo (En-zoh)
Roast: Dark
Character: Full Body, Bold Acidity
Flavors: Nutty, Smoky, Dark Chocolate, Caramel
Personality: Rich, Structured, Fearless, Darkly Honest, Full-throttle, Proud
KEURIG 2.0 COMPATIBLE – Filter Cup, our single-serve coffee pod, is the convenient way to enjoy a fresh-tasting delicious and aromatic single cup of coffee. Compatible with all K-CUP® brewers*.

35% LESS PLASTIC - Our unique mesh coffee pod design uses 35% less plastic than ordinary single-serve pods without compromising fresh taste and aroma. The pods come in a resealable package that keeps coffee fresher longer.

A PRODUCT OF OUR PASSION - From farm to cup, we meticulously craft extraordinary coffee that is served today in hundreds of Segafredo Zanetti cafes and preferred by professional baristas in thousands of restaurants and cafes globally.

At Segafredo Zanetti, four generations of coffee experience fills every cup. The Massimo Zanetti family goes to great lengths carefully selecting, blending, and roasting our beans to draw out each one's distinct characteristics. We invite you to savor the experience of one of our smooth and complex blends with your friends and family.
Create your own #segafredomoment.
*K-CUP® is a registered trademark of Keurig Green Mountain, Inc. Segafredo Zanetti® Filter Cups™ are not affiliated with Keurig Green Mountain, Inc.

I LOVE Segafredo Enzo, BUT…
I find that these pods brew a very weak cup of coffee. I have to use 2 pods and brew twice to get a decent cup of coffee. The pods are just too small with not enough coffee grounds. I suppose if you buy your coffee mugs from IKEA or Fisher-Price, you might have better luck… but I prefer normal-sized coffee mugs for adults.
So Good
We discoved this coffee at a breakfast place and loved it! So I ordered some. It's delicious and sealed for freshness
My favorite coffee
I've been trying many different coffees this is one of the best ones, Excellent coffee !
Best coffee ever
Delicious coffee. Easy to order with fast delivery.