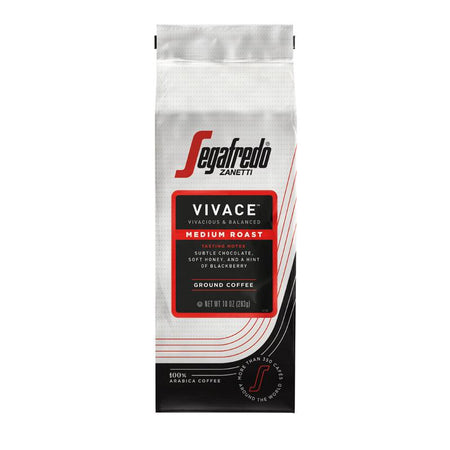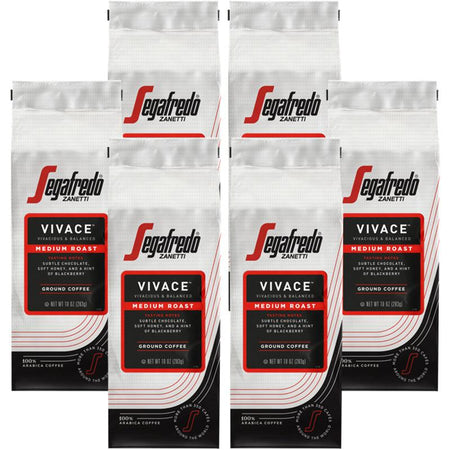 MEDIUM, VIVACIOUS, AND BALANCED
An artisan balance of Colombian and Brazilian Arabicas, medium roasted with subtle chocolates, soft honey, fragrant blackberries and a soothing finish.
PROFILE
Name: Vivace (Vee-vah-chay)
Roast: Medium
Character: Medium Body, Smooth Acidity
Flavors: Subtle Chocolates, Lemon, Blackberry, Honey
Personality: Lively, Spirited, Alluring, Sophisticated Exuberance
A PRODUCT OF OUR PASSION - From farm to cup, we meticulously craft extraordinary coffee that is served today in hundreds of Segafredo Zanetti cafes and preferred by professional baristas in thousands of restaurants and cafes globally.

At Segafredo Zanetti, four generations of coffee experience fills every cup. The Massimo Zanetti family goes to great lengths carefully selecting, blending, and roasting our beans to draw out each one's distinct characteristics. We invite you to savor the experience of one of our smooth and complex blends with your friends and family.
Create your own #segafredomoment.
Upgraded Our Coffee Game
Smooth, flavorful coffee. Lots of body and taste.
SEGAFREDO ZANETTI VIVACE Coffee NOW At My Home !
My favorite restaurants in Coppell and Grapevine serve this coffee and I googled the brand and now I have it at my home. I urge anyone to try Vivace blend for an awesome fresh brewed coffee to start your day ! !
Love this Coffee!!!
This is my go to coffee! I first tasted it at Starwood Cafe and loved it so much, I started ordering directly from the company. It has such a smooth taste!
Always the Best
My favorite way to begin the day. I first discovered the coffee at a nearby bakery that I go to regularly on the weekends. I decided to purchase some for home, so I could make it to take to work daily. Now it's a part of my life and the only coffee that I drink!
One of my favorites, along with Crescendo
I alternate between my favorites, Vivace and Crescendo. Both have full-bodied flavors (for medium roasts) and very smooth.