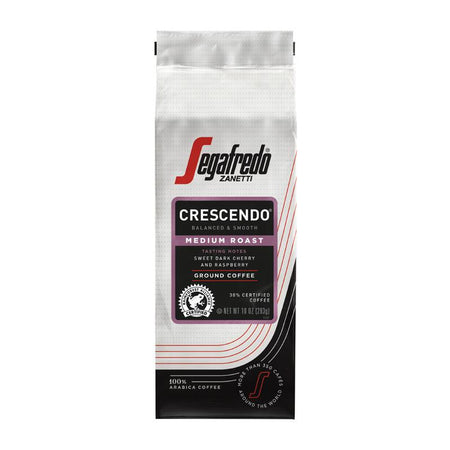 MEDIUM, SMOOTH, AND BALANCED
A mild and lightly sweet craft blend that uses Arabica to convey complex flavor notes of dark cherry and black currant. Medium roasted to deliver a unique and perfectly balanced cup of coffee with smooth, lasting acidity and a light delicate finish.
Crescendo coffee uses 100% Rainforest Alliance Certified beans as part of Segafredo's commitment to being good global citizens. This means your purchase helps growers achieve a sustainable livelihood and safeguards the long-term health of the land. See our other certified coffees here.
PROFILE
Name: Crescendo (Kre-SHEN-doh)
Roast: Medium
Character: Medium Body, Smooth Lasting Acidity
Flavors: Dark Cherry, Black Currant
Personality: Distinguished, Genuine, Conscientious, Sophisticated
A PRODUCT OF OUR PASSION - From farm to cup, we meticulously craft extraordinary coffee that is served today in hundreds of Segafredo Zanetti cafes and preferred by professional baristas in thousands of restaurants and cafes globally.

At Segafredo Zanetti, four generations of coffee experience fills every cup. The Massimo Zanetti family goes to great lengths carefully selecting, blending, and roasting our beans to draw out each one's distinct characteristics. We invite you to savor the experience of one of our smooth and complex blends with your friends and family.
Create your own #segafredomoment.
Delicious Coffee!
This is a deliciously smooth coffee, rich in flavor and very fun to drink!
Fantastic cup of coffee
I love this coffee, perfect balance of flavor and the right amount of bitter. I can now make a better tasting cup at home than I can ever get out!
Love your coffee….
Love your coffees I wish they sold in stores
Best coffee EVER!!
I now seek out this coffee wherever I go! We even enjoyed it on the last cruise we were on with MSC. Truly a fantastic coffee and I'm so happy that I can brew it at home and enjoy it every day!
Love Segafredo Zanetti
Segafredo Zanetti is my favorite coffee, I love it