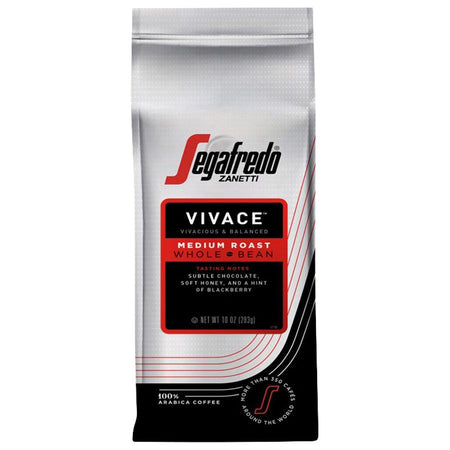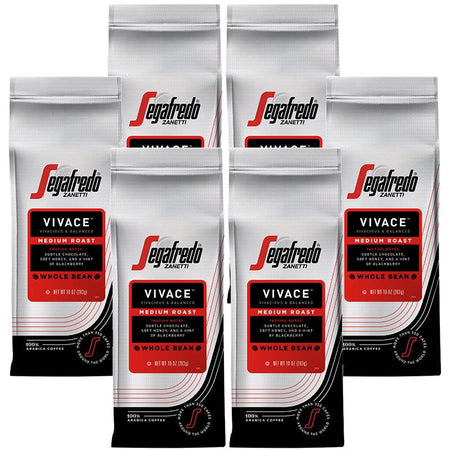 MEDIUM, VIVACIOUS, AND BALANCED
An artisan balance of Colombian and Brazilian Arabicas, medium roasted with subtle chocolates, soft honey, fragrant blackberries and a soothing finish.
PROFILE
Name: Vivace (Vee-vah-chay)
Roast: Medium
Character: Medium Body, Smooth Acidity
Flavors: Subtle Chocolates, Lemon, Blackberry, Honey
Personality: Lively, Spirited, Alluring, Sophisticated Exuberance
A PRODUCT OF OUR PASSION - From farm to cup, we meticulously craft extraordinary coffee that is served today in hundreds of Segafredo Zanetti cafes and preferred by professional baristas in thousands of restaurants and cafes globally.

At Segafredo Zanetti, four generations of coffee experience fills every cup. The Massimo Zanetti family goes to great lengths carefully selecting, blending, and roasting our beans to draw out each one's distinct characteristics. We invite you to savor the experience of one of our smooth and complex blends with your friends and family.
Create your own #segafredomoment.
Mild
We are enjoying the Vivace Medium. It is nice and mild!
Thanks FLIPS Pancake
Flips serves your coffee and I submitted my order immediately while eating there. We LOVE the VIVACE blend. Feel free to send any "deals" our way. Again "coffee done right."
Vivace™ - Medium Roast - Whole Bean
Great coffee
I love this coffee! This roast is so smooth with no bitterness and such a great flavor. I will continue to buy it.
Very good coffee
I bought the whole bean coffee. Bold flavor, smooth , not bitter at all.