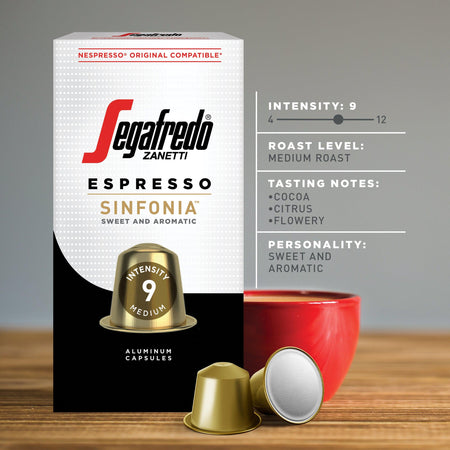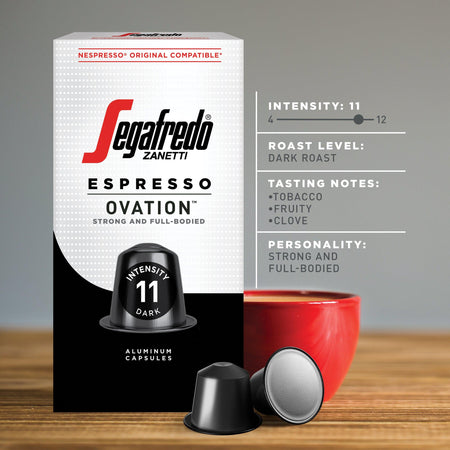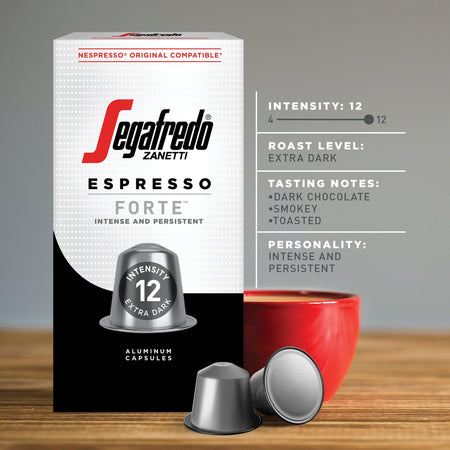 Espresso Aluminum Capsules – Variety Pack, 40 ct.
 Save when you purchase the variety pack.
ALUMINUM ESPRESSO PODS – Segafredo Zanetti single serve espresso pods are 

aluminum and are NESPRESSO® ORIGINAL COMPATIBLE.*

VARIETY PACK – Includes one carton of 10 capsules of all four of our blends - Sinfonia™, Encore

™

, Ovation™, and Forte

™.  Find your favorite.

EXPERTLY CRAFTED QUALITY – Region, climate, and soil affect the unique flavor characteristics of our select coffee beans. Segafredo Zanetti beans are blended and roasted with the utmost care to create this world-class taste.

A PRODUCT OF OUR PASSION – From farm to cup, we meticulously craft extraordinary coffee that is served today in hundreds of Segafredo Zanetti cafés and preferred by professional baristas in thousands of restaurants and cafés globally.

*Compatible with most NESPRESSO® Original machines. NESPRESSO® is a registered trademark of Societe des Products Nestle S.A. Segafredo Zanetti® capsules are not affiliated with Societe des Products Nestle S.A.
Great coffee
I love the coffee, but most of the items are always out of stock.
poor capsule quality
almost 10% of the capsules had air leak issue, the coffee inside taste ok,
capsules break
the coffee tastes good but the capsules break and the water drips inside the used capsules drawer!
Great alternative for Nespresso users
Sometimes pods that aren't Nespresso leak a lot of coffee in to the collection basin - maybe it's because of their shape…? The Segafredo Zanetti pods don't leak like this - all the coffee goes into the cup. And that coffee is as smooth a cup as you could wish for. Even the darker blends (11 & 12) seem to be smoothly flavorful.
Espresso Aluminum Capsules – Variety Pack, 40 ct.